The Do's and Don'ts of a Utah Notary Public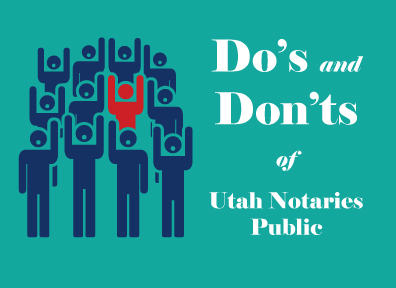 Being a Notary Public for the State of Utah is a great responsibility and we want you to feel confident at the time of a notarization! We know our test was a lot of material, and it may be hard to remember everything that was covered. Take a moment to review our Do's & Don'ts; these will refresh your memory as well as offer some new insight to help you stay on top of your game as a Notary Public.
Do's
Identify your signer using satisfactory evidence of identity. Don't know what 'satisfactory evidence of identity' is? Check out the statute here.
Make sure your signer is voluntarily signing the document (he or she should affirm or swear they are knowingly and voluntarily signing the document).
Remember that personal appearance is required. This does not mean via Skype, or any other means of video communication. The signer must be there, in the flesh, before you.
Stay impartial.
When your commission expires, always destroy your certificate and seal.
Keep and maintain your notarial seal (stamp), certificate and journal in a safe place.
Know your Powers and Limitations. See the Notary law here.
Keep a journal! It is the best way to legally protect yourself in the event of a lawsuit.
Make sure the notarial language wording complies with Utah law.
Always report lost or stolen seals, certificates and journals. You can find our contact information in the "Contact Us" tab.
Contact our office if you have any questions about a notarization.
Don'ts
Never just stamp and sign. Remember that a complete notarization requires notarial language, signature and your seal.
Never notarize a document if the signer is not present.
Never let other people use your seal. This is considered a Class B Misdemeanor, and is subjective to prosecution and revocation of your commission.
Never offer legal advice to your signer or draft a document if you intend on notarizing the document. You need to be a licensed Utah attorney to do so.
Never notarize a document with an expired commission.
Leave your seal, journal and certificate with your employer upon termination of employment.
Never complete a notarization with information known to be false.
Notarize a document you are named in or stand to gain from financially.
Copy certify public or publicly recorded documents.
Notarize outside of the State of Utah; you can only perform a notarial act within the state.